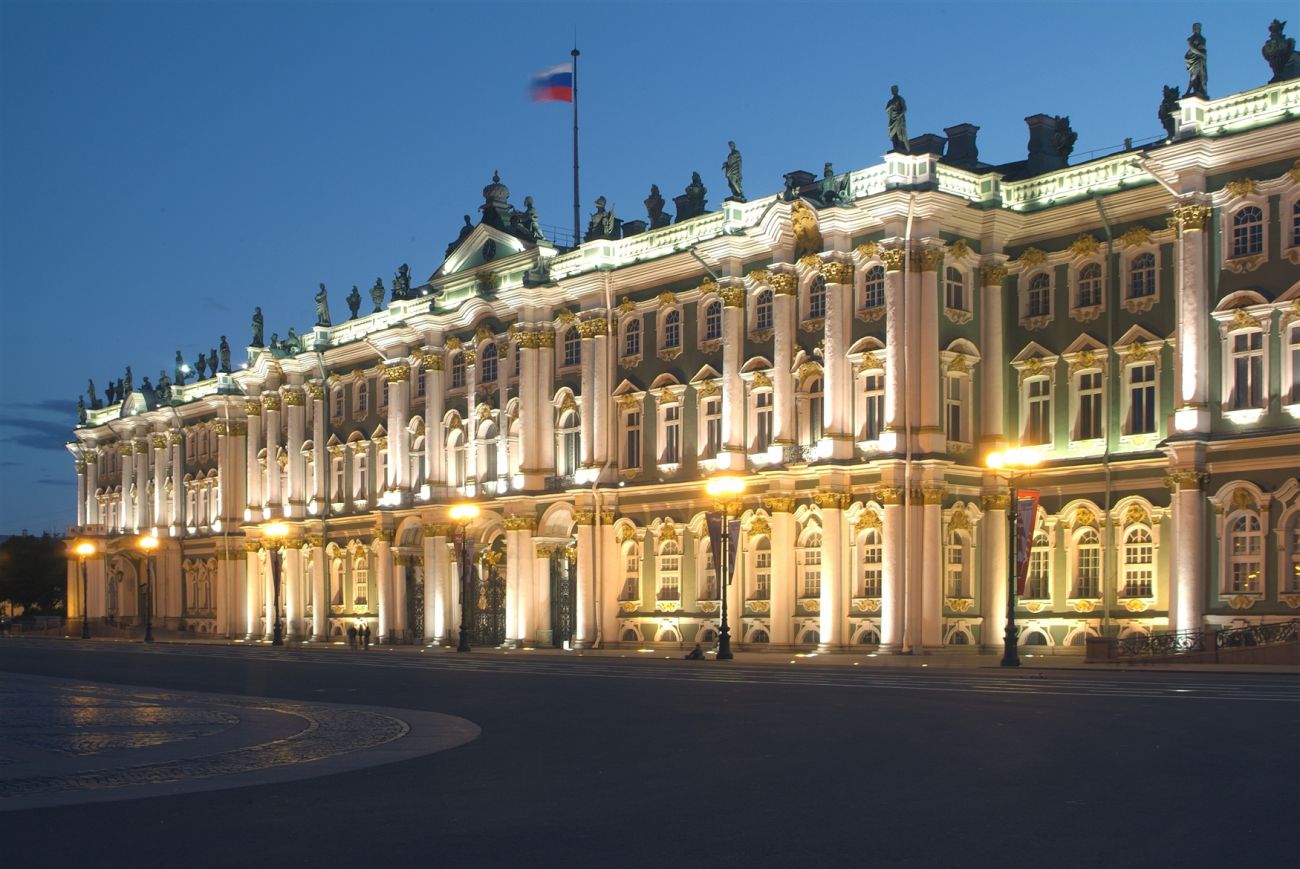 Art lovers must visit the Hermitage Museum, which displays three million art pieces and spans a broad period from prehistoric art to the modern art movements like Impressionism, Post-Impressionism and the Neoclassical. On your Hermitage museum tour you'll go from looking at Iron Age artefacts to Cezanne or Picasso. The State Hermitage is one of the oldest and largest museums in the world. The museum is located in 5 historical buildings of St. Petersburg, including the Winter Palace – the former residence of the Russian tsars.
Catherine II is considered to be the founder of the Hermitage museum. In 1764 she purchased the art collection of Johann Gotzkowski of 225 Dutch paintings and displayed it in the 'Small Hermitage' where she entertained her guests. This collection very soon would turn into one of the world's most famous art galleries, eventually completing the whole Hermitage complex with millions of artistic masterpieces from all over the world.
While you're on the city tour Saint-Petersburg check the unique Treasure Gallery exhibition in the Hermitage museum. Definitely, it's one of the most interesting collections in the world. It was named so still in the 18th century during the reign of Catherine II. It consists of the Gold Rooms and the Diamond Rooms. Don't miss them out during the Hermitage museum tour. The Gold Rooms have works from gold from Eurasia, the Black Sea, and the Orient dating from the 7th century B.C. to the 19th century A.D.
The Diamond Rooms shows the evolution of the jeweller's craft over the centuries from the third millennium B.C. to the beginning of the 20th century.
The idea of collecting jewels for the Hermitage appeared under Peter I, who got from Siberia two hundred gems. Later, the collection of gold jewellery became known as the Siberian collection of Peter the Great. Most of the items from this collection were purchased from grave robbers. In the 19th century the collection was transferred to the Hermitage and many other jewels began to arrive there as well.
Of course, among the treasures of the Hermitage the most valuable of all is the 'Scythian Gold', often richly adorned with precious stones. They were obtained from the excavations of burial mounds. According to the Scythian tradition, together with a dead chief the tribe buried his wives, servants, and these tombs contain jewels along with numerous artefacts and personal adornments.
Learn more about the glorious past on your Hermitage museum tour. The collection of Scythian antiquities in the Hermitage is well-known worldwide, it's mainly coming from burial mounds in the Crimea, Kuban basin and in the valleys of the Dnieper and Don rivers.
Spend some time in the Hermitage and its special funds during your city tour Saint-Petersburg.
The tour usually lasts 3-4 hours